"He Tried To Run": Arrest Made In Gruesome Murder Of Decapitated Tech CEO
Il presente articolo proviene dal sito di controinformazione USA Zerohedge ed è stato translate automaticamente.  A questo link troverete l'articolo originale in inglese.
"He Tried To Run": Arrest Made In Gruesome Murder Of Decapitated Tech CEO

Tyler Durden

Sat, 07/18/2020 – 15:00
The personal assistant of murdered tech CEO Fahim Saleh has been charged with second-degree murder, after Saleh was found decapitated and dismembered in his $2.2 million Manhattan luxury apartment on Tuesday, after a cousin stopped by to check on him.
21-year-old Tyrese Haspil of Brooklyn was arrested on Friday morning in the lobby of a different luxury apartment building several blocks from where Saleh lived. On Saturday, two detectives walked Haspil out of the 7th Precinct in a white Tyvek suit, face mask, handcuffs and leg shackles – ignoring question from reporters, according to the report.
Tyrese Haspil arrested for the alleged murder of tech entrepreneur pic.twitter.com/Qqfmnr7Y82

— Giorgi Javoiani (@GJavoiani) July 18, 2020
"He tried to run," the building superintendent told the New York Times, adding that Haspil had arrived at the apartment sometime on Wednesday, and said he was planning to leave on Monday.
Haspil, who handled Saleh's finances and personal matters, is believed to have owed his boss a "significant amount of money," according to the Associated Press citing the NYPD. The NY Daily News reports that Saleh discovered that Haspil had allegedly embezzled $90,000 from him, and had set up a repayment plan after firing him, instead of reporting it to authorities.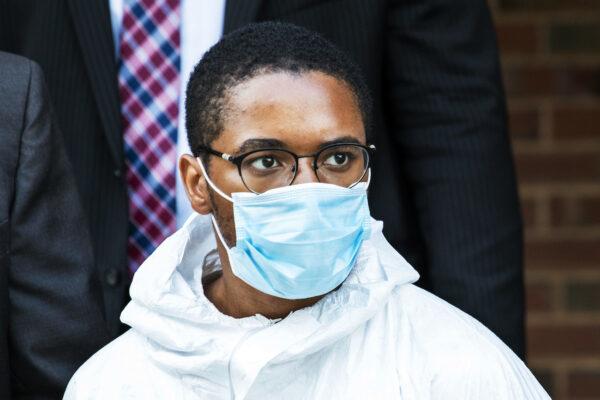 Saleh, the 33-year-old co-founder of Bangladeshi ride-share app Pathao and CEO of Nigerian motorcycle ride-sharing company Gokada – had been seen entering his apartment elevator around 1:40 p.m., followed by a man wearing a suit, latex gloves, hat and ninja mask, who was carrying a duffel bag.
According to law enforcement officials, after the elevator arrived on the 7th floor, the suspect could be seen firing a taser into Saleh's back, immobilizing him. Saleh was then stabbed to death, sustaining multiple wounds in the neck and torso, with the assailant returning the next day to dismember him with an electric saw and clean up when he was interrupted by Saleh's cousin.
Haspil reportedly used a credit card to buy the electric saw found at the scene, while a taser prong recovered from Saleh's body contained a serial number connecting Haspil to the murder, NY Daily News sources indicated. What's more, he was seen on surveillance video purchasing the saw and cleaning supplies at a local Home Depot, according to Manhattan Assistant DA Linda Ford at Haspil's Saturday morning arraignment in Manhattan Criminal Court.
When the cousin got to the apartment, the police said, she discovered a horrifying scene: Mr. Saleh's head and limbs had been removed, and parts of his body had been placed in plastic bags designed for construction debris. An electric saw was plugged in nearby.

Investigators have concluded that Mr. Saleh had been killed the day before, according to a fourth official with knowledge of the inquiry. -NYT
Cops said Haspil returned to the apartment Tuesday, intending to dispose of the butchered body and clean the gore. But a cousin of the victim instead came by and discovered the body — with no arms, legs or head — as the suspect fled down a staircase, sources said.

The power tool was left inside the E. Houston St. condo where the victim's mutilated remains were left in the living room. The killer "left before he finished the job," a source said earlier in the week. –NY Daily News
"To think the guy who may have done this lived two floors below me," said 53-year-old photographer and neighbor, Lisa Hancock. "It was just so brutal, and it sounds like it was planned … It's shocking. It's crazy."